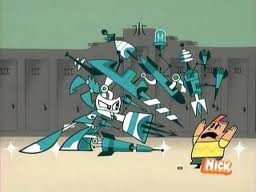 MLAATR or better known as My Life As A Teenage Robot.
To put it Simple, Jenny Wakeman rocks!
Jennifer 'Jenny' XJ9 Wakeman is the main character and tries to mantain a blance of being a crime fighting robot and a 'normal' teenager.
Doctor Noreen 'Nora' Wakeman is Jenny's 'Mom' and frequently intrudes on her 'daughter's personal life.
Bradely 'Brad' Carbunkle is Jenny's best friend. He finds Jenny's life exciting but sometimes gets on her nerves.
Tucker Corneilus 'Tuck' Carbunkle, Brads younger brother who likes Jenny but was intially afriad and suspicaioius of her.